Thai Cheese Tour with VIVIN Grocery and Friends 2023-2024: "Thai Cheese Rocks!"
A Rocking Cheese Culinary Journey with VIVIN Grocery and Friends through Thailand.
Bangkok, 15th August 2023 - Get ready to rock your taste buds as VIVIN Grocery presents the Thai Cheese Tour 2023-2024, an extraordinary culinary odyssey that promises to fuse the excitement of a rock concert with the delights of artisanal Thai cheeses. In partnership with 5-star hotels and Michelin-star-rated restaurants, this innovative tour will tantalize cheese enthusiasts with an all-Thai cheese experience like never before.
A Delicious Initiation: The Thai Cheese Buffet at VIVIN Grocery
Renowned for its exclusive Thai Cheese Buffet, VIVIN Grocery has carved a niche for itself in Bangkok's culinary scene. Sourced from local producers and complemented by homemade charcuterie, Thai cold cuts, organic salads, and flavorful condiments, the monthly buffet at the VIVIN Grocery Asok branch has been a haven for cheese aficionados. Beyond the flavors, this experience also champions local produce and sustainable food practices.
Taking the Cheese Love on the Road
VIVIN Grocery is now taking its cheese extravaganza on a journey across the nation. This Thai Cheese Tour will pop up at key tourist destinations in collaboration with esteemed establishments, offering locals and tourists the chance to savor the same delightful cheese experience that Bangkokians have cherished. The tour is set to span over a period of 12 months, from September 2023 to September 2024.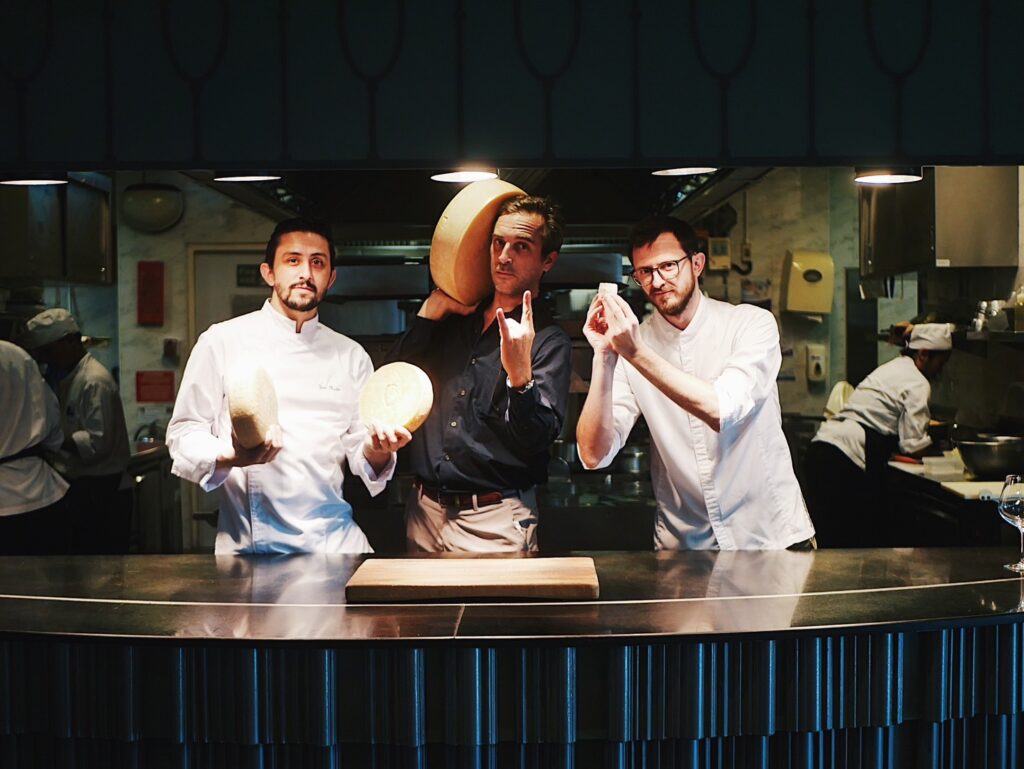 A Gourmet Story: VIVIN Grocery
Founded in 2014 by Nicolas Vivin and Samantha Proyrungtong, what started off with one table and one product at the Farmers' Market, VIVIN Grocery has emerged as a premium cheese provider in Thailand. With a commitment to artisanal, high-quality products, the brand boasts two outlets in Bangkok – a grocery and a "Shelf to Plate: Restaurant" concept. VIVIN Grocery celebrates Thai cheeses and locally sourced cold cuts, promoting traditional cheese-making techniques and showcasing the talents of local artisans. VIVIN Grocery will be leading the tour and making friends with new fans and creating beautiful culinary music with partners along the way.
An Indulgent Kick-Off
The tour will commence with a grand media event at VIVIN Grocery Bistro. This event will bring together media personalities, renowned chefs, and VIPs, treating them to a sumptuous Thai Cheese Buffet & More, all in the spirit of the rocking theme. Before that, on Friday 8th September, a sneak preview of the tour will be presented to journalists and members of the FCCT with "Thailand's unexpected culinary treats: artisanal cheese and wine, where attendees will receive a free sample plate of cheese, a glass of Granmonte wine, and a cheese-based canapé from Chef Amerigo from J'aime. 
Event link here: https://www.fccthai.com/events/243 
"Thai Cheese Rocks": A Journey of Flavours with Fun
The tour's pop-up events will feature an array of Thai cheeses, homemade cold cuts, jams, chutneys, dried fruits, pickles, and artisanal bread in the spirit of VIVIN Grocery's iconic Thai Cheese Buffet. Each partner establishment will customize its offerings, highlighting local Thai produce and contributing to sustainable practices.
The tour's pop-up events will not only feature an array of Thai cheeses and culinary delights but select venues will also incorporate live entertainment, dynamic lighting, and rock concert-style props. To amplify the experience, special rock-themed merchandise, including tour t-shirts, caps, and other items, will be available for fans to groove with the theme.
GranMonte Thai Wine & Thai Cheese: A Perfect Pairing
GranMonte Vineyard and Winery in Khao Yai, Thailand's only Geographical Indication (GI)-certified wine, adds a refined touch to this rocking culinary journey. Their support elevates the experience, creating a harmonious blend of exquisite Thai wines to pair with the Thai artisanal cheeses that promise to delight connoisseurs and enthusiasts alike. 
Join the Rocking Cheese Journey…
Thai Cheese Tour Partners 2023-2024:
J'aime by Jean-Michel Lorain, Bangkok - Sunday, 24th September 2023
Dusit Thani, Hua Hin - Saturday, 27th January 2024
Anantara Lawana Koh Samui - Saturday, 24th March 2024
Anantara Resort Chiang Mai - Friday, 3rd May 2024
Intercontinental Phuket - Saturday, 27th July 2024
GranMonte Vineyard and Winery Khao Yai - Sunday, 11th August 2024
VIVIN Grocery - Bistro & Bar Thonglor - Friday, 20th September 2024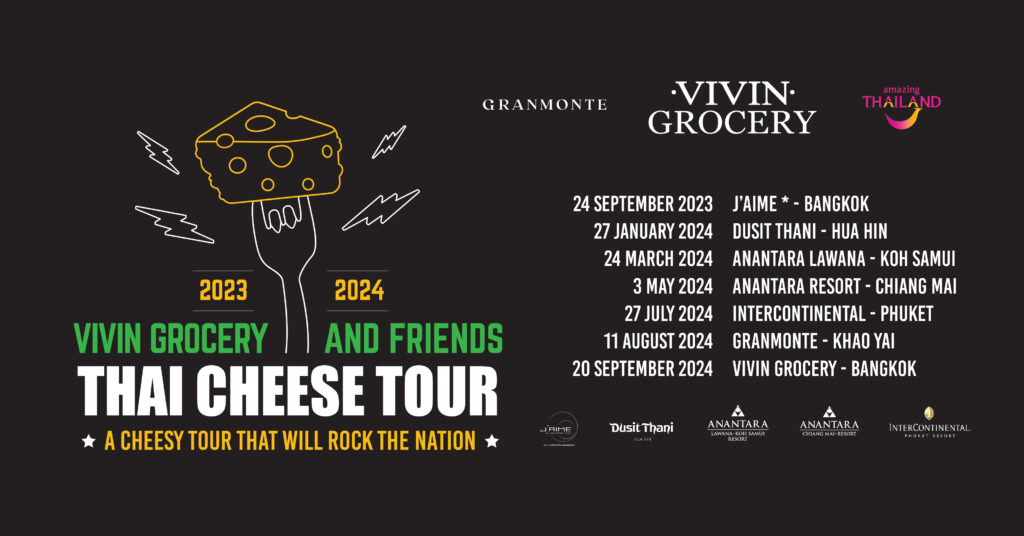 Mark Your Calendars!
With the Thai Cheese Tour on the horizon, it's time to celebrate the harmony of cheese, culture, and rock-inspired entertainment. Keep an eye out for upcoming dates and join VIVIN Grocery on a journey that promises to redefine Thai culinary experiences with a rocking twist.
VIVIN Grocery contact: contact@vivinmaison.com 
VIVIN Grocery website: https://vivingrocery.com/ 
VIVIN Grocery - Bistro & Bar Thonglor :
FB:  https://www.facebook.com/VIVINgrocery / IG: https://www.instagram.com/vivingrocerybistrothonglor/
VIVIN Grocery - Café & Bistro Asok: 
FB https://www.facebook.com/Vivingroceryasok   : / IG:https://www.instagram.com/vivingrocerycafeasok/ 
__
About VIVIN Grocery:
VIVIN Grocery is a leading provider of premium cheeses in Thailand. Founded in 2014 by Nicolas Vivin and Samantha Proyrungtong, VIVIN Grocery is committed to promoting traditional cheese-making techniques and supporting local cheese artisans. With a grocery and restaurant concept, VIVIN Grocery offers a curated selection of Thai cheeses and locally sourced cold cuts, along with hundreds of artisanal, natural, and organic products. 
Hosted by VIVIN Grocery, the tour unfolds and closes against the backdrop of their two distinctive locations. The media launch beings at their flagship establishment in Asok, a Grocery, Bistro, and Café, which is known for its pioneering spirit in promoting local gourmet products. The newly opened branch in Thonglor where the finale will be held, brings a fresh twist, combining the Grocery, Bistro and Bar concept with a French-Izakaya Bar. Both venues reflect VIVIN Grocery's commitment to offering unique culinary experiences that showcase the richness of Thai flavors and the artistry of artisanal creations.
About GranMonte Vineyard and Winery:
GranMonte stands as a proud emblem of Thailand's winemaking excellence, earning the honor of being the nation's sole Geographical Indication (GI)-certified wine. With its vineyard and winery situated amidst the stunning backdrop of Khao Yai, Thailand, GranMonte embodies a commitment to crafting exceptional wines. Partnering with the Thai Cheese Tour, GranMonte's wines infuse an elegant touch, masterfully uniting the distinctive flavors of Thai wines with artisanal cheeses, creating an unforgettable culinary voyage.